Other Breastfeeding Related Links & Articles
SDCBC Community Blog Posts
Additional Lactation/Breastfeeding Resources
End Exploitative Marketing of formula milk products.
More than half of parents and pregnant women (51%) surveyed for a new WHO/UNICEF report say they have been targeted with marketing from formula milk companies, much of which is in breach of international standards on infant feeding practices.
The report, How marketing of formula milk influences our decisions on infant feeding, draws on interviews with parents, pregnant women and health workers in eight countries. It uncovers systematic and unethical marketing strategies used by the formula milk industry – now worth a staggering US$ 55 billion – to influence parents' infant feeding decisions.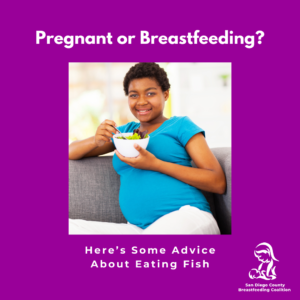 FDA and EPA have issued advice regarding eating fish
This advice can help those who might become or are pregnant or breastfeeding as well as parents and caregivers who are feeding children make informed choices when it comes to the types of fish that are nutritious and safe to eat. This advice supports the recommendations of the Dietary Guidelines for Americans.
Fish intake during pregnancy is recommended because moderate scientific evidence shows it can help your baby's cognitive development.
Let's continue to work together to protect, promote and support breastfeeding. As always, please let us know if you have questions or ideas for the Coalition as we continue to adapt during this unique time.
Thank you,
San Diego County Breastfeeding Coalition