Got a breastfeeding problem? Well, the problem is not breastfeeding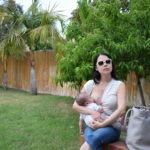 It's May. As an immigrant mom from Taiwan, I have a lot to write about in this month: It's AAPI Heritage month. The second Sunday of this month is Mothers' Day. And May 20th is National Breastfeeding Day in China.
Today, I want to concentrate on breastfeeding "problems."
Earlier this year, I helped to translate the San Diego County Breastfeeding Coalition's resource guide and the California Work and Family's paid family leave guide into Mandarin Chinese. Both documents became available to public last month (Hooray!) and I proudly shared both of them on a Chinese-language breastfeeding support Facebook page that I co-manage.
I got a lot of responses, which is a good thing. Some mothers started to comment and share their breastfeeding problems. Then people began to discuss what to do if not breastfeed.
It seems inevitable: Whenever someone has a problem with breastfeeding, the question we tend to raise is: is there a better alternative for breastfeeding, or a better substitute for breastmilk?
A while ago, there was an article in VOGUE Taiwan that claimed that exclusive breastfeeding would stress out new moms, suggested that only happy moms can happy babies, and concluded with moms should practice self-care by giving up breastfeeding.
This is exactly the kind of arguments that disturb me. The logic of this article is that breastfeeding is a mother's personal choice, and if a mom choose to breastfeed, that's her personal burden and no one else should share the responsibility.
The truth is, there's no better alternative for breastfeeding or a better substitute for breastmilk, except in some very rare circumstances, such as when galactosemia occurs in a newborn baby, or some industrial disaster cause very high level poisoning in mother's milk (like the Seveso disaster occurred in Italy in 1976.) Breastfeeding saves lives, boost infants' immune system, and lower mothers' risk of breast cancer.
On the other hand, breastfeeding problems are never a problem of breastfeeding—they are always problems of lacking support, resource, or paid leave. Breastfeeding is not a mom's personal choice of lifestyle, it's a public health issue. The government, the employer, and the society as a whole all shares a responsibility of supporting breastfeeding families.
We need to talk about how to solve the difficulties that hinder mother's chance of successfully breastfeeding, not what to use instead of breast milk.