Mission, Values & Strategic Plan
The San Diego County Breastfeeding Coalition's mission is to improve the health and wellbeing of our community by protecting, promoting, and supporting breastfeeding through education, outreach, advocacy, and service.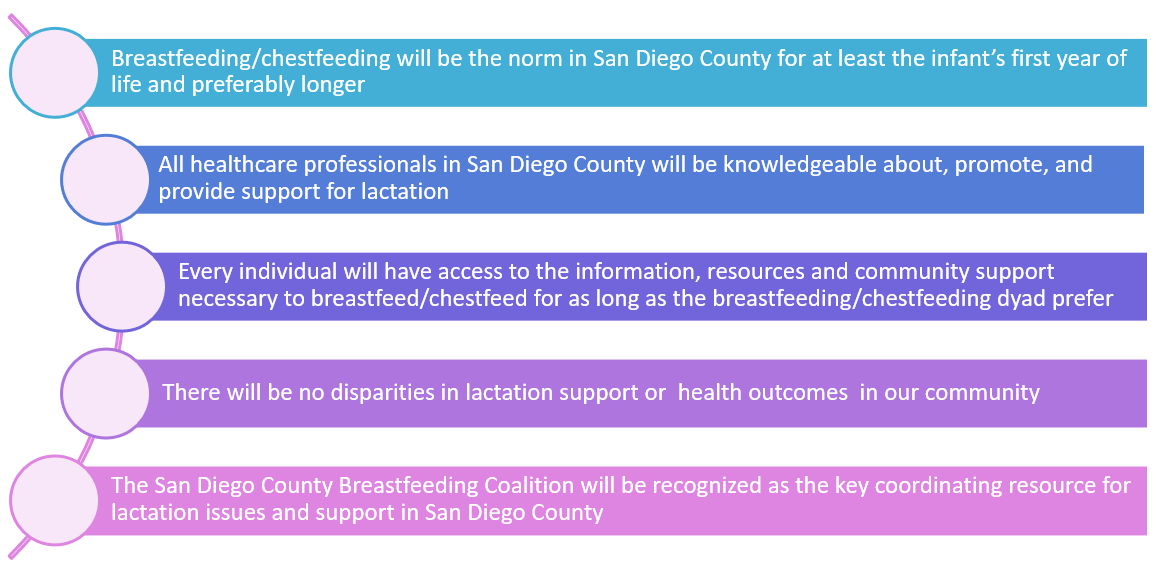 Human milk is a health, social, ecologic, and economic resource for our community.
We are committed to reducing race and socioeconomic- disparities in health outcomes by supporting lactation in all cultures, ethnicities and sectors of our community.
We are dedicated to serving everyone inclusive of race, ethnicity, religion, sex, national origin, ancestry, age, marital status, physical or mental ability, socio-economic status, political views, gender identity, sexual orientation, family structure, or other protected status.
We are committed to increasing access to lactation education for BIPOC (Black, Indigenous & People of Color) candidates and elevating BIPOC to leadership positions in our organization
We recognize that not all people and lactating individuals identify as female and endeavor to use gender inclusive language within the framework of inclusivity of all breastfeeding, chestfeeding, and human milk-feeding.
Mothers or parents have the right to make an informed decision regarding their child's feeding.
Community acceptance and support are integral components of lactation success.
Health professionals, business leaders and policy makers have a vital need for access to accurate information and play a critical role in the support and promotion of lactation.
Breastfeeding/chestfeeding is an integral component of parenting, and the family is an essential   support.
Mother-to-mother support, peer counselors, doulas, childbirth educators and other support persons play a vital role in promoting and supporting breastfeeding in the community.
We provide current, accurate, scientifically valid and culturally sensitive information.
SDCBC Founders
Nancy Wight MD, IBCLC, FABM, FAAP & Mary Sammer MS, RD
A Look Back with Co-Founders Nancy Wight, MD & Mary Sammer