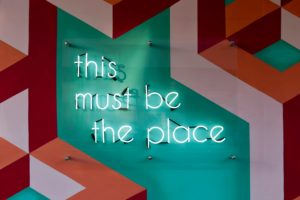 If you are interested in working with the San Diego County Breastfeeding Coalition check out our current opportunities below
Interns
Interns work to support the activities and programs of the San Diego County Breastfeeding Coalition(SDCBC). The coalition is a registered nonprofit association driven by the mission to protect, promote, and support breastfeeding through education, advocacy, and outreach in our community. 
The intern provides support to SDCBC staff in the implementation and evaluation of key initiatives such as Education Program, Fundraising, and Advocacy & Outreach programs. The intern will also assist with the coalition's marketing and outreach efforts and other coalition community initiatives, as needed. 
This is a part time, unpaid position, estimated 5-10 hours per week. All interns receive a letter of recommendation upon completion of their internship.
To apply please email your resume with Intern in the Subject Line to sdcbc@breastfeeding.org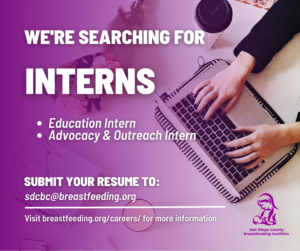 Lactation Educator
Global Communities is currently hiring Lactation Educators to contribute to a project that fills geographic and language gaps in breastfeeding support for underserved communities in San Diego.
Under the direction of the Lactation Program Manager, Lactation Educators will provide basic breastfeeding/lactation information and support to new parents, helping them overcome barriers and to ensure breastfeeding success. They will support the implementation of at least two support groups each month, and answer calls received through a breastfeeding warmline on an as needed basis.
This is a part time, on-call position, estimated 4-8 hours per week. Up to four Lactation Educators will be hired to meet the needs of the project, with a focus on representation from communities and language groups that experience barriers to lactation support.