Training and Recognition for Providers
Entrenamiento y Reconocimiento para Proveedoras
Si usted es un proveedor y quiere convertirse en un centro reconocido como Pro-Lactancia, ha venido al lugar correcto! 
If you are a child care provider and would like to become a recognized Breastfeeding-Friendly partner, you've come to the right place!
The Breastfeeding-Friendly San Diego (BFSD) program is a self-nomination and recognition program in which providers can complete at their own pace. There are 5 simple steps to complete, known as Building Blocks to Breastfeeding-Friendly Childcare, to become eligible for breastfeeding-friendly recognition.
Breastfeeding-Friendly San Diego:
Apoyando la Lactancia Materna en el Cuidado Infantil
Participe en un Entrenamiento GRATUITO Diseñado para Proveedores de
Cuidado Infantil y Aprenda Cómo Puede Apoyar a Familias que Amamantan
Muchas mamás regresan a trabajar ó a la escuela durante los primeros tres meses de vida de su bebé. El apoyo durante esta transición es extremadamente importante y puede determinar el que los bebés reciban leche materna ó no. El apoyar a las familias durante la lactancia materna es práctico y económico, además de que usted como
proveedor de cuidado infantil puede sobresalir al ofrecer este tipo de apoyo a sus clientes.
Este taller tiene como co-anfitrión a TrueCare WIC y los centros y programas de cuidado infantil en casa recibirán
capacitación impartida por un Consultor Internacional de Lactancia Certificado (IBCLC por sus siglas en inglés).
La capacitaciٕón incluye los beneficios de la lactancia materna, el manejo y almacenamiento apropiado de la leche
materna, amamantando al bebé, creando un ambiente confortable para el amamantamiento y apoyando la
participación de los padres con recursos comunitarios.
Aprenda sobre el programa Breasfeeding-Friendly San Diego (BFSD), un programa reconocido y GRATUITO
para proveedores de cuidado infantil y cómo completar los 5 Building Blocks para autonominarse para la
designación y el reconocimiento. Los proveedores de cuidado infantil de BFSD disfrutarán de la promoción de
su programa a través del sitio web San Diego County Breastfeeding Coalition (SDCBC) y se destacarán como
YMCA CRS "Breastfeeding-Friendly Child Care" para familias en busca de cuidado adecuado para la lactancia
materna de sus bebés.
Ubicación:     En línea a través de Zoom
Fecha:           Martes, 24 de Agosto, 2021
Hora:             El registro abre a las 6:00pm
Sesión:          6:30pm- 8:45pm
Costo:           Gratuito
Información:  mytraining@ymcasd.org
Apoyando la Lactancia Materna en el Cuidado Infantil
Martes, 24 de Agosto @630 pm PDT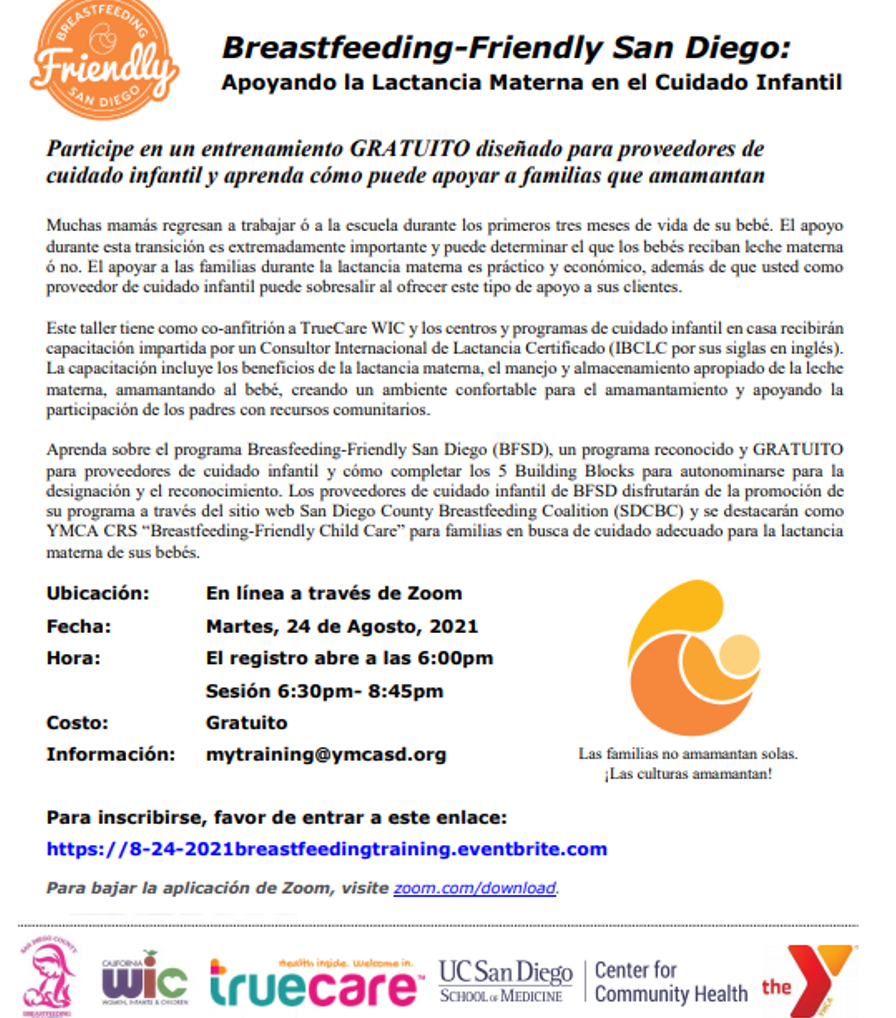 Announcing August Breastfeeding-Friendly Childcare Provider Training!
One of the requirements for becoming a breastfeeding-friendly childcare provider, is to provide employee training to support breastfeeding. 
Many new mothers return to work or school within the first three months of their child's life. Concerns about pumping at work and placing their infant in child care can discourage new moms from beginning and / or continuing to breastfeed. Supporting breastfeeding families is easy and cost-effective and it can help you stand out among other childcare providers.
In this workshop, co-hosted by TrueCare WIC, at-home or center-based childcare providers will receive training from International Board Certified Lactation Consultants (IBCLCs). Learn about breastfeeding-friendly practices including the benefits of breastfeeding, proper handling and storing of breast milk, feeding the breastfed baby, creating a breastfeeding supportive environment, and supporting breastfeeding families with community resources.
Additionally, you will learn about Breastfeeding-Friendly San Diego (BFSD), a FREE recognition program for childcare providers that  complete all 5 Building Blocks to self-nominate  for designation and recognition. BFSD childcare providers will enjoy promotion of their program to parents through  SDCBC's website  and social media and highlighted as a YMCA CRS "Breastfeeding-Friendly childcare" for families looking for breastfeeding-friendly care for their children.
The Breastfeeding-Friendly San Diego (BFSD) initiative is supported in partnership with TrueCare WIC, YMCA, SDCBC & UC San Diego Center for Community Health. BFSD helps licensed family child care homes and child care centers support and promote breastfeeding-friendly practices in their sites. Increasing the number of breastfeeding-friendly child care sites in San Diego County breaks down barriers to continued breastfeeding, which means healthier babies, healthier moms and healthier future generations.
If you have additional questions or need accommodations please contact us at  mytraining@ymcasd.org  or 1-800 481-2151
Self-Nomination Form / Formulario de Auto Nominación 
Una vez que haya completado los 5 bloques de construcción, puede estar listo para nominarse a sí mismo para ser reconocido como socio de cuidado infantil de BFSD.
Envíe sus documentos aquí para su revisión.
Once you have completed the 5 Building Blocks, you may be ready to nominate yourself to be recognized as a BFSD childcare partner.
Submit your documents here for review.