Moms Need Even More Support to Breastfeed In the Era of COVID-19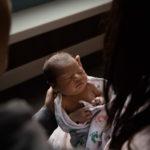 Last month, TIME magazine published an article that portrayed breastfeeding in an unflattering way. Featuring a new mother struggling to produce breast milk, the article described breastfeeding as an activity that sacrifices a mother's well-being and blamed COVID-19 for making new moms who seek immune protection to their babies feel even more pressure to breastfeed.
As a faithful reader of TIME magazine, I'm disappointed how this article ignored the real reasons behind the pressure to breastfeed: It's because mothers are getting much less support, not because breastfeeding is by nature not doable and moms are forced to breastfeed to provide antibodies to their babies.
Pandemic Shifts for New Moms
Support for new moms is generally scarce during the pandemic. In the past few months, I often think of those days when I first became a mother—that was more than eight years ago. What I think of most often is my parents' visit. I enjoyed the hot chicken soup in my bed; I took shower while my mom was holding the baby. After each late-night feeding, my mom would hum a little song and put the baby to bed so that I could go straight back to sleep.
My parents-in-law also came to help with laundry and cleaning. Other relatives and good friends were all there to support me, taking turns to hold the baby, bringing food to my husband and me. When I didn't have a clue about how to be a mother, when I doubted I could survive the days where I had to wake up every two hours, and when I wondered why the baby kept crying or why he wouldn't latch on, fortunately, I had my family and friends there. When I needed support the most, I had a village.
After the outbreak of COVID-19, the village disappeared. When I went to visit a friend who gave birth during the pandemic, all I could do was stand outside with a mask on, waved to her, and then put the food and gifts for the baby at the door. She stood behind the window, held her baby up to show me, like Rafiki the baboon in "The Lion King" held up Simba the lion cub. I couldn't go in to give her a hug, or to hold the baby for her for a while so that she can sit down to eat a good meal or take a nice shower. I tried to imagine what I would become if I didn't have all the help from family and friends when I was a new mom. I just wanted to cry.
Moms Need Support
Every new mother should have a village. In each stage of becoming a mother, there should be support, guidance, and blessings from family and friends. But for my friend and many mothers who gave birth during the pandemic, this village has disappeared. In the pandemic year, not only did family and friends not be able to visit one another, many local mother support groups were also forced to shut down, and these supports are crucial to a successful breastfeeding experience.
Professional breastfeeding support is especially scant for new moms during the pandemic. Throughout the country, lactation professionals found themselves struggling to continue to serve families. Because lactation consultants were not considered essential workers, many were not allowed to enter the hospital and had to set up weighing stations in parking lots, many could not get their hands on personal protection equipment. CDC reports show that one in five hospitals across America cut breastfeeding support during pandemic. Lactation services had to go virtual, which created further barriers for families with limited access to the Internet.
These are the real problems that TIME should be looking into, instead, the magazine painted breastfeeding as the problem and pretended these factors don't exist. New moms trying to breastfeed during the pandemic are facing enough challenges, we really don't need another article to discourage us.