Call to Action: Public Comment in Support of Fully Funding SB 65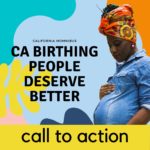 SB 65 is on the agenda for the Senate Budget Subcommittee No. 3 hearing TODAY! We are calling on our community of supporters to voice your support for fully funding SB 65, the California Momnibus Act, during the public comment period.

How to Call in for Public Comment: 
1. Dial: 844-291-6364 / Access Code: 3531283 
2. You'll be placed in a "waiting room" and muted Note that you'll be able to listen to the hearing while you wait 
3. When the moderator asks for anyone who would like to testify in "Support", press 1-0Every time you press 1-0 you either put yourself "In queue" or take yourself "Out of queue" so listen carefully, and press 1-0 only once when you are prompted by the moderator 
4. Listen for and write down the line number assigned to you by the operator You will be placed in the queue once you receive your assigned line number 
5. When it is your turn to comment, the moderator will call out your line number, open your line, and at that time you can share your comment

The hearing will begin after the Senate's 9:00am regular floor session. You can live stream the hearing by clicking here. Each person will have about 1 minute to comment, so short & sweet! Remember to keep calling if the lines are full, and to stay on hold once you get a number. Your voice is crucial!

Call Script
Hello, my name is ________________. I am calling to express my support for fully funding the provisions of SB 65 the California Momnibus Act. SB 65 reimagines maternal health for all Californians by redefining success. Although the overall maternal mortality rates in our state have decreased, disparities still persist. Black and Indigenous birthing people continue to die or sustain severe injury from pregnancy related causes at rates far above the state average. SB 65 created the statutory structure for the critical interventions needed to meaningfully address the maternal and infant mortality and morbidity crisis in our state. We now ask that you fully fund them. 
We ask that you: 
1. Fund the Midwifery Workforce Act to expand the midwifery workforce and ensure that all counties have access to quality maternity care; 
2. Fund the County Fetal and Infant Mortality Review Committees to better collect data on fetal and Infant loss in order to prevent these tragedies in the future; and 
3. Increase funding for the Doula Medi-Cal benefit so that Doulas receive fair and equitable reimbursement rates that ensure sustainability of the workforce and success of this vital program. 
Funding these provisions is an investment towards eliminating California's racial and socioeconomic disparities in birthing outcomes. 
With your help, we can get SB 65 – the CA Momnibus Act fully funded. Please pass this along to your networks – we need as many people as possible to show support!
Thank you for taking action!

Kiera & Advocacy Team