National Breastfeeding Month 2021: Every Step of the Way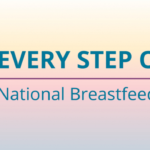 "If I could talk to myself eight years ago
Seeing what I've seen, knowing what I know
I would tell that new mother
There'll be days ahead
When breastfeeding doesn't seem to work
I would tell her she can trust herself
Cause now I gotta picture of landscape of infant feeding
I can see with perfect clarity
It wasn't impossible
It was what we need
I couldn't see it then
But now I know
Every step of the way
There's support there's help"
My heart is full, as it tends to be every August—it is the National Breastfeeding Month. The theme of this NBM is "Every Step of the Way," so I rewrote the lyrics of Cade Thompson's song of the same title. Amazingly how it reflects the theme of the year, and my own breastfeeding journey.
Eight years ago, I returned to work when my first child was three months old. Unfortunately, it was a very unfriendly environment for breastfeeding. The company did not provide a nursing room in accordance with the law, and I was forced to pump milk in a toilet stall. After pumping, when I was tempted to wash and dry the pump parts in the company kitchen, a few colleagues uttered abusive words, saying, "don't wash your dirty underwear in the office." The company, which happened to be a newspaper, even published an article calling breastfeeding images "disgusting." The unfriendly working environment put me under unprecedented pressure. When pumping in the company's toilet stall, the milk dripped into the bottle, and my tears dripped down my cheeks.
After a while I began to be unable to express milk. I began to wonder if I had enough milk to feed my baby and to consider supplementing infant formula milk.
Finally, that day came. My fight for the rights to breastfeed with the company's management failed to get the desired result; when I got home, a coupon for infant formula was lying in my mailbox. Tired and disappointed, I grabbed the coupon and told myself, "Let's do it."
I drove to the nearby grocery store, ready to buy the first can of formula for my little one. A minute later, I was standing in front of the formula milk shelf in the grocery store, holding a can of milk powder in my hand.
Then I heard a little voice, "Will this fix your problem?"
Will I feel better at the company if I switch to formula milk? Certainly not! Obviously this is a company that ignores federal and California labor laws and disregards employees' labor rights. Now the company arbitrarily violated employees' breastfeeding rights. Even if employees did not breastfeed, wouldn't the company violate employees' labor rights in other ways?
I realized that was not my problem. It was the company's problem.
So I put that can of formula back on the shelf, walked out of the grocery store, drove home, and wrote my resignation letter.
It was after my resignation that I realized that I was not alone: There were LLL breastfeeding support group in my local library; there were my local breast-feeding coalition that put me in touch with pro-bono lawyers who later settled my case against my previous employer; there were like-minded individuals who founded the Asian and Pacific islander Breastfeeding Task Force with me, and we are launching the very first national AANHPI Breastfeeding Week this year.
If I could talk to myself eight years ago, I would tell that depressed new mother, "Trust yourself, you can do it. Not because you have super power, but because you'll be supported at every step along this journey."