Lactation is Maternal Health. Let's Support Black Lactating Mothers this Black Maternal Health Week.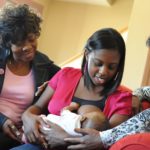 April 11th marked the first day of Black Maternal Health Week this year. I think it is a great time to talk about how lactation is a crucial part of maternal health.
Breastfeeding can reduce a mother's risk of breast and ovarian cancer, type 2 diabetes, high blood pressure, and all these conditions affect black women at a disproportionately higher rate than non-black women. For example, research shows that black women are disproportionately affected by more aggressive subtypes, such as triple-negative breast cancer. On the other hand, for every 12 months a woman breastfed, her risk of breast cancer decreased by 4.3%.
Breast milk is the best source of nutrition for babies.
It's constantly changing according to babies' nutritional needs. More than that, breast milk helps protect infants from short and long-term illnesses, including asthma, childhood obesity, type 1 diabetes, and sudden infant death syndromes. Many of the conditions are more common in black children than non-black children.
With that being said, supporting breastfeeding and quality lactation care is a good place to start to improve the overall health and wellbeing of black women and their babies, and Black Maternal Health Week is a great reminder that we must center the voices of black women to achieve lasting change.
Black Maternal Health Week is also a great opportunity for awareness and activism.
Right now, the Senate is considering making a critical investment in black maternal health: The Black Maternal Health Momnibus. The act supports pregnant and lactating black mothers by making critical investments in social determinants of health that influence maternal health outcomes, like housing, transportation, and nutrition. It will grow and diversify the perinatal workforce and ensure that every mom in America receives maternity care and support from people she can trust. It will further invest in maternal mental health care and substance use disorder treatments.
We don't need to be a Senator to support this important bill. We can: