What do these breastfeeding guidelines tell us?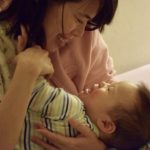 Last month, the American Academy of Pediatrics released an updated policy statement on breastfeeding that suggested increasing the duration of breastfeeding to two years or more from one year or more. This is the first update to the breastfeeding recommendations in a decade.
Besides the increase in duration, many of the recommendations remained similar to the guidance published in 2012, including continuing recommendation to breastfeed exclusively for the first six months of a baby's life. Facing questions about the timing of the release, Dr. Joan Meek, the lead author of the policy statement, told New York Times that the update has been in the work for years, and the timing of its publication "should not be interpreted as if the AAP were suggesting in any way that women can breastfeed their way out of the current formula crisis."
New AAP Guidelines Call for More Lactation Support
I appreciate how these new guidelines reduce the stigma against breastfeeding past 12 months. They affirm that mothers should be supported by medical providers, workplaces, families and society at large in breastfeeding for as long as they want to. The new policy statement also notes that there aren't enough structural supports in place—such as paid parental leave, flexible work schedules and on-site child care—that might help American families reach their breastfeeding goals.
Breastfeeding & Bodily Autonomy
And releasing the new guidance days after the overturning of Roe v. Wade, when millions of American women are alarmed about restrictions on their reproductive and physical autonomy, was a move that sent important reminders: instead of abortion bans, there are more reasonable means to reduce abortion rates—provide families the support they need. Instead of toppling Roe, what we should do is pass the PUMP Act, legislation meant to give more women access to workplace protections for action.    
Pass the PUMP Act NOW
Currently, nine million women of childbearing age are left out of federal workplace lactation protections. Teachers, registered nurses, agricultural workers and many others have no federal right to take work breaks to pump milk to feed their nursing babies. The AAP guidelines explicitly recommend "universal" workplace break time and private space, and we must make it a reality.