The Childcare-Conference Conundrum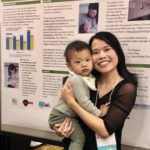 A while ago I attended the 2020 California Breastfeeding Summit as a poster presenter and an awardee. I was thrilled to be there. Conferences like these are vital forums for academic researchers and activists. At these meetings, scientists communicate discoveries, activists form advocacy collaborations, make contacts with funding agencies, and attract new members to our programs.

But I was unable to participate fully in this summit. The reason was childcare. Struggling to find care for my 2-year-old, I took him to the summit. During the seminar sessions, I had to leave my chair from time to time to breastfeed, to change diapers, to calm the fuzzy child, and my looking for new spots while trying my best not to disturb other attendees. A hard position indeed.

And I am sure I am not alone. Primary caretakers of dependent children face inequitable hurdles to fully attending and participating in conference activities because of responsibilities related to pregnancy, breastfeeding, and caretaking. A breastfeeding summit is one of the most family-friendly conferences that I can imagine, and the organizers kindly showed us empathy, yet I face hurdles. At the Summit, Sen. Scott Wiener talked about making a difference for working parents in the new decade. I honestly think the childcare—conference conundrum should not be overlooked.

How might this conundrum be addressed? I think supporting child care would overcome a major hurdle to conference attendance. There are a number of ways to do this. I attended the California Breastfeeding Summit as a volunteer but if I were to go to a conference for work, my current employer would provide parents with children under 2-year-old financial support for individually arranged childcare. I attended National Breastfeeding Conference and Convening last summer where onsite childcare was provided and I absolutely appreciate it.

There are clear social-justice concerns when certain groups are excluded from participating fully in the academic field. When conference organizers consider parental needs, everybody wins. I look forward to seeing a parent-friendly environment and culture being promoted by professional societies.