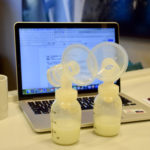 Providing Urgent Maternal Protections (PMUP) for Nursing Mothers Act (S. 3170) has been introduced with bipartisan support in the Senate!

The current law, Break Time for Nursing Mothers which passed in 2010, requires employers to provide reasonable break time and a private, non-bathroom space for breastfeeding employees to pump during the workday. This was an important step. However, the placement of the law within the part of the Fair Labor Standards Act (FLSA) that sets minimum wages and overtime resulted in 9 million women—which is nearly one in four women of childbearing age—not covered by this legislation. As a result, these women have no clear right to break time and space to pump breast milk.

The PUMP for Nursing Mothers Act would strengthen the existing Break Time for Nursing Mothers law by:
Closing the coverage gap. The bill would protect 9 million employees unintentionally excluded from the 2010 Break Time law by extending the law's protections to cover salaried employees as well as other categories of employees currently exempted from protections, such as teachers, nurses, among others.
Providing employers clarity on when pumping time must be paid. The bill leaves in place existing law protecting many salaried workers from having their pay docked and clarifies that employers must pay an hourly employee for any time spent pumping if the employee is also working.
Providing remedies for nursing mothers. The bill would ensure that nursing mothers have access to remedies that are available for other violations for the FLSA.
Here in California, we are lucky—our moms already got stronger support for workplace lactation when a law signed last October by Gov. Newsom that requires a more dignified space to pump and proper equipment for storing the milk. Now we stand with our sisters across the nation and encourage Members of Congress to cosponsor this important legislation.