How to Promote Breastfeeding in Ethnic Groups? Study Says Prenatal Education Might be the Answer.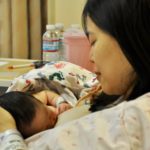 When I was pregnant with my first child, during a prenatal interview, my then future pediatrician asked me if I planned to breastfeed. I said, "I will try if I have milk."
He told me, "With proper support, virtually every mother has milk."
It was this statement that motivated me to make a breastfeeding plan. Now, new research has echoed this personal experience of mine: Healthcare providers are an essential "first contact" for encouraging pregnant women to value breastfeeding.
While exclusive breastfeeding is described as a problem for all American women, Asian American women have been shown to introduce foods other than mother's milk to their infants earlier than any other ethnic group, according to a 2016 study. The new research wanted to find out why and concluded that the answer is "a lack of available prenatal breastfeeding education."
The research focused on Chinese Americans, the largest Asian American group, and found that Chinese American women often did not receive information from their healthcare providers about breastfeeding during prenatal visits, which is an important missed opportunity for providers to reinforce the value of exclusive breastfeeding. While these pregnant women had positive attitudes toward breastfeeding, they lacked the knowledge of the importance of exclusive breastfeeding, general approval for using infant formula, as well as early introduction of complementary foods. Most of them don't know about colostrum, the nutrients- and antibodies-rich "liquid gold" present immediately after birth.
In short, the access to breastfeeding education is the one factor that affects feeding choices the most among Chinese American mothers. Lacking prenatal breastfeeding education is leading Chinese American mothers to introduce unnecessary liquids to their babies during the first six months of life.
"The more information a woman has prenatally, the more influence it will have on her feeding decisions when she has her baby," said Dr. Joanne Goldbort, an assistant professor from Michigan State University College of Nursing, and the lead researcher of the study. For example, she said, "most Chinese American moms didn't know colostrum was essential, so they were introducing other liquids such as formula or sugar water, which is a problem."
The researchers also found that while person-centered and factual messages were judged as equally effective messages, intention to breastfeed was more affected by the factual message. Dr. Goldbort urged healthcare providers to proactively communicate with all pregnant women during all trimesters of pregnancy about the importance of exclusive breastfeeding for the first six months postpartum.