Giving the Lifetime Gift of Breastfeeding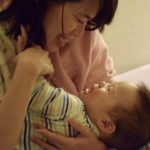 Happy New Year!
Do you have a New Year's resolution? Many make resolutions to better themselves. Some make resolutions to aid others. For a new mother who is breastfeeding, the new year presents an opportunity to do both.
The most popular New Year's resolution is probably "eating healthy." For a new baby, there's nothing more healthy than mama's milk. There are many benefits to breastfeeding, and any amount given to baby is beneficial. The first expression of breast milk, called colostrum, protects babies from disease and infection. It's easy for babies to digest, and it provides the perfect amount of nutrition babies need in the first hours of life. The World Health Organization recommends that all newborns are fed colostrum within the first hour; this will give infants a great start to a healthy life. Lifelong benefits of breastfeeding include the prevention of asthma, allergies, and diabetes in children, to name a few. It also reduces the risk of cervical and breast cancer in mothers. Breast milk really is the best nutrition a mother can provide her infant.
With work, school or family life, breastfeeding can be a challenge. But with realistic goals and the right support, it can lead to lifelong benefits for mom and baby. If you are a new mother, I invite you to celebrate yourself and your new baby with these recommendations.
Revise your to-do list. Take some time to rest when the baby is resting and stop feeling the need to do the laundry.
Take help. Breastfeeding is a family affair. When mom is nursing, it is dad's turn to cook.
Get support. It takes a village to raise a child. Reach out to a support group or lactation consultant.
Tend to your own needs. A rundown mother is no good to anyone.
Trust yourself and your mothering instincts and be confident in your ability to breastfeed. Your baby is a clock. Watch your baby, not the clock. Follow your baby's hunger cues and trust yourself to meet the baby's needs.
Enjoy this time. Babies grow fast, so be present.
If you are a family member, a friend, a peer or even a stranger, I invite you to support breastfeeding mothers around you. The more supportive family, friends and the society are, the more like a new mom is to succeed in breastfeeding. Participation from family and friends is one of the main motivating factors when it comes to breastfeeding. It could affect how long a mom chooses to breastfeed. Even little warm words can go a long way.
Current California laws state that a woman is entitled to breastfeed any place she is allowed to be. Employers should provide a reasonable break time and a private place that is not a bathroom for moms to express breast milk. Still nursing moms always need more support.
San Diego County Breastfeeding Coalition is moms' friend. My colleagues are here to support new moms and their growing families through the breastfeeding journey, through education, outreach and advocacy in our community. We are pledged to continue supporting breastfeeding families in 2019.
Once again, let me wish you a very happy New Year and new moms a very happy breastfeeding journey!