CDPH visitation guidelines now recommend two visitors at one time for NICU patients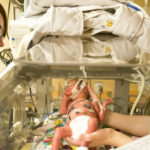 The California Department of Public Health (CDPH) recently changed its visitor limitation guidance: it is now recommended that two designated support persons can visit a NICU patient at the same time. Before this update, the guidance suggested only one visitor be allowed in the NICU.

It is a major win for California postpartum families. Recognizing and supporting the role of parents when a baby is in NICU is a fairly recent phenomenon.

Since the early 1960s, dramatic improvement in the care of preterm infants and/or infants with certain medical conditions has taken place in NICU across our country.  Knowledge has advanced along with the technical equipment to care for these babies: incubators to help babies stay warm, oxygen delivery to help with respiratory distress, supplemental forms of intravenous intrusion to nourish them.

But the role of the parent was not an important topic before the 1970s. At that time, in most hospitals and nurseries, dads were often excluded, and maternal-infant bonding was often not the priority. Strict visitation hours and policies were the norms and a sterile "do not touch" culture was routine. It wasn't until late 1980 that family-centered care expanded along with visitation policies and support groups.

Still, the one visitor at a time limitation gave the impression that not all parents were essential by forcing families to choose which parent could visit baby at any given time.  It also posed a huge burden for families by preventing parents—usually, the mother, if she can go to the NICU—from having the benefit of a partner in the NICU with them.

Having a baby in the NICU can be stressful for parents. Any parent with a baby in NICU can use all the support from the partner. This is especially true for a mom who wishes to breastfeed her baby in the NICU.

Breastmilk is the best for food for babies, and its antibodies are even better for babies in the NICU. When the baby is not ready to breastfeed, a mom wishes to provide breastmilk has to pump her milk. Pumping on schedule is a lot of work itself. In the meantime, a partner can help the mom provide breast milk for the baby: Help get bottles ready, make sure the milk is stored correctly, and take it to the hospital so it's ready when the baby needs it.  
 
In addition to breastfeeding support, a partner can play important roles reassuring the mother and encouraging her to take care of herself.

We applaud the CDPH for making this update, which is in the best interest of the infants and their families. The NICU has skilled staff and so much technology, but the baby has Mom and Dad.