Breastfeeding: Our Stories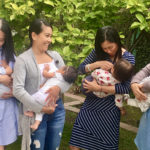 Writing blog posts for my local breastfeeding coalition is all about storytelling for social good. So today I am going to tell another breastfeeding story.

It was 1949, in the middle of Chinese civil war. A mother trying to escape from the war-torn China got on a refugee boat in Guangzhou with her 3-year-old and 1-year-old.

The boat was sailing to Kaohsiung. Soon after they left the port, the two children started to cry. People on the boat were afraid that the kids crying would attract the communist navy searching for refugees. They were going to throw the kids into the sea.

The mother fought against those people with all her strength, promising that she would stop the children crying. She took off her blouse, put the two kids under her arms, one on each side, and then put her nipples into the kids' months. Comforted by the mother's breasts, the children calmed down. The mother kept nursing her children until they arrived in Kaohsiung safely two days later.

The mother in the story is my grandmother. Those two children are my father and my uncle. For years I held this story as a unique family memory. But when I shared the story at the 14 Breastfeeding and Feminism International Conference in North Carolina two years ago, an attendee exclaimed, "Oh, that could be my grandma! She did the same thing when running away from the Nazis in 1939's Austria."

When it comes to breastfeeding, it's always personal. Yet when it comes to breastfeeding stories, all the stories have something in common.

Seven years ago when I was working for a Los Angeles-based Chinese language newspaper as a staff writer, I sat on the floor of a bathroom stall between assignments and then washed the pumping accessories in the office kitchen while some colleagues told me "don't wash your dirty panties here." For months I thought it's just unfortunate of me to have disrespectful colleagues and a law-breaking employer who refused to provide lactation accommodation. But when I reached out for legal assistance to allege my previous employer for breastfeeding discrimination, I learned that my experience was both typical and far from the worst of it among breastfeeding moms returning to work after their child's birth.

When it comes to breastfeeding stories, all the stories have some elements in common: struggle, resilience, and most of all, love. Telling stories is one of the most powerful means that activists have to influence, teach and inspire. Do you have a breastfeeding story to share? Please leave a comment and let us know!
Photo Credit: Arissa Palmer