Breastfeeding is a One-Of-A-Kind Experience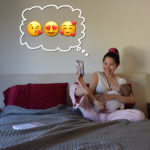 This National Breastfeeding Month, I invited the followers of my Facebook Breastfeeding Page to show their breastfeeding experience with five emojis. The results were truly fascinating and really reflect how unique each mother's breastfeeding journey can be.
Here are some most impressive responses:
 From a mom who did not attend prenatal breastfeeding class, "I couldn't believe that they asked me to do skin-to-skin right after giving birth! I was exhausted already. I had absolutely no idea what to do. And I never got enough sleep again. In spite of all of these, I discovered that breastfeeding is actually the happiest and most relaxing time for baby and me."

 "My baby was a good eater and I absolutely loved breastfeeding until he was teething…it hurt! But he soon weaned himself after that. Now I miss breastfeeding."
"I felt every positive emotion from the beginning to the end."
"I loved the skin-to-skin contact with my baby right after giving birth. I loved rooming with my baby. Breastfeeding at home worked well, thanks to the good start in the hospital. I so enjoyed the moments when she stuck on me. Now she's almost two and would climb on me and ask for milk. It's breastfeeding at its easiest."
"I love every second of breastfeeding."
"I don't have much milk, but amazingly, it's always enough for my baby."
"I'm tired, so tired, very tired…I never know whether it's day or night. But still, it feels good, it feels like baby and I are a team."
"The best thing I ever did for my baby as a mom."
"I'm hungry, super hungry…Five emojis are not enough! I want to eat!!"
Among all these responses, I noticed that none of the moms used a sunshine or rainbow emoji. Being a new parent is exciting, but it's definitely not always sunshine and rainbows!
How was your breastfeeding experience? Share with us using five emojis!