Breastfeeding Contributes to the Survival of All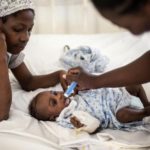 Recently, I was informed by my agent that a book I wrote ten years ago will be reproduced as an e-book and be relaunched. So I did a second proofreading, and recalled that I had written an article covering the 2010 Haiti earthquake:
"…One day, a mother brought her baby, who was less than six months old, to the free clinic. Through an interpreter, she told the doctor that the baby was sick. After the examination, the doctor explained that the baby was not sick, but was malnourished. The mother said sadly that she did not have enough milk. The doctor advised her to eat more beans and she would have milk. The mom cried and said, 'Beans? But I can't even afford corn!'…"
When I re-read this article ten years later, I was shocked. On January 12, 2010, a catastrophic magnitude 7.0 earthquake struck Haiti, causing severe damages. In the following days, many humanitarian organizations set up temporary free clinics in tents in the outskirts of Port-au-Prince, capital of Haiti. In the ruined city, hundreds of severely injured victims who had lost one or some limbs were sent to these free clinics every day. Since the mother and her little baby still had all their limbs and were not severely injured they attracted very little attention from a reporter, like myself. I did write a few sentences about them, but soon forgot about the whole thing. What happened to them? I do not know.
Now thinking of them, thinking of the mother who couldn't afford beans and her malnourished baby, I tried to remember their appearance. The baby must have been really thin, his limbs must have been especially skinny. He had probably been hungry for such a long time and most likely dehydrated as well. He had been crying for so long, maybe his lips were dry. The formula milk fed to him by the volunteers at the free clinic could probably get him through that day, but definitely not for much longer. How is he now? Was he lucky enough to make it to one year old?
Thinking about this, I could literally hear the sound of my heartbreak and regretted why I didn't pay a little more attention to them at that time. I am so ashamed.
Breastfeeding, not infant formula, is actually the most reliable way of feeding infants and young children in emergencies. At that time, in Port-au-Prince, there was not even clean water. We reporters had to carry bottled water from the United States to Haiti for drinking and daily use. When assignments were completed, we had to bring the empty bottles back to the States for recycling or disposal. Under such conditions, how could anyone safely make a baby bottle? No wonder so many babies survived the cataclysmic earthquake but not its miserable aftermath—more babies actually died from diarrhea.
But, ten years ago, many emergency relief team members lacked such an understanding, let alone we health journalists.
Every baby has the right to survive and to grow up. Breast milk is a human right.
Earlier this month, World Alliance for Breastfeeding Action (WABA) announced the theme of this year's World Breastfeeding Week: Protect breastfeeding—a shared responsibility, with a focus on how breastfeeding contributes to the survival of all. Let's keep it in mind that breastfeeding saves lives and needs investment at all levels.
Photo Credit: Yann Libessart/MSF, MSF Hospital of Drouillard, Haiti in 2012.