A Look Back at Breastfeeding Activism in 2018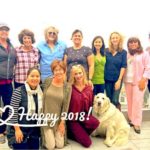 It has been a busy year for breastfeeding advocates!
You and many others have sponsored our important work here at San Diego County Breastfeeding Coalition and together saw renewed enthusiasm and commitment in 2018. With everyone's help, we continue to create a landscape of breastfeeding support across the county.
Read on to refresh your memory about what you made possible this year. It is your engagement and action that has made all of this happen:
In January, SDCBC applauded to New Jersey for signing a bill to prohibit breastfeeding discrimination. Firing or discriminating against women who breastfeed at work was finally prohibited under the state legislation signed by Gov. Chris Christie on Monday, Jan 8.
For sick or pre-term babies, breastmilk is not only the best nutrition but also the lifesaver. In February, SDCBC responded to Mother's Milk Bank's emergency needs of donor milk and called for milk drive.
In spite of the backlash against breastfeeding, science continues to approve that breastmilk is the best nutrition for babies. In March, Dr. Susan Crowe (MD, FACOG) discussed the making of breastfeeding controversies at an SDCBC mini-seminar.
According to the Center for Disease Control (CDC), support for breastfeeding in early care and education is an import strategy. In April, SDCBC joined our partner at UCSD Center for Community Health and produced a breastfeeding-friendly childcare training video.
In May, SDCBC called for support to SB 937, a new bill that would improve requirements for workplace accommodations in California. If passed, it would require a lactation room or location to include prescribed features. The Bill was, unfortunately, vetoed.
It was reported in June that breastfeeding babies were separated from moms at the U.S.-Mexico border. SDCBC responded to the family separation and released a statement against the detention of immigrant children, noting it could affect health for a whole-of-society.
It was reported in July that the U.S. Delegation to the United Nations-affiliated World Health Assembly (WHA) undermined a global resolution aimed at supporting breastfeeding. SDCBC responded to the opposition, stating it puts profits before babies.
In August, SDCBC invited world-recognized neuroscientist, Dr. Nils Bergman, to examine why infants need to bond with their mothers early on at the coalition's National Breastfeeding Month seminar.
In October, SDCBC celebrated the 10th Annual Liquid Gold Gala, a fundraiser night for our wonderful cause. Thank you to your support, the coalition met its goal this year by raising close to $15,000 in the evening.
In November, SDCBC applauded to the Friendly Airports for Mothers Act, which made U.S. airports a better place for eight our of 10 new mothers in the U.S. breastfeeding their babies (CDC, 2016)!
In December, SDCBC warned mothers about holiday weaning, which means accidentally nursing less often due to traveling, busy holiday schedules, or surrounding by groups of family and friends.
That is just a snapshot! Before the year closes, let us thank you for helping make this important work possible!