Baby-Friendly Hospital Initiative For The NICU & An Open Q&A with An IBCLC+Neonatologist
Sep 30, 2022 9:00AM—12:00PM
Location
Zoom
Cost $20.00 - Early Bird Registration For Non-Members (Ends on 09/23/22) $35.00 - General Registration For Non-Members (Starting on 09/24/22) $35.00 - Q&A Participant for An Open Q&A with aN IBCLC + Neonatologist
Event Contact Jose Gonzalez | Email
Categories events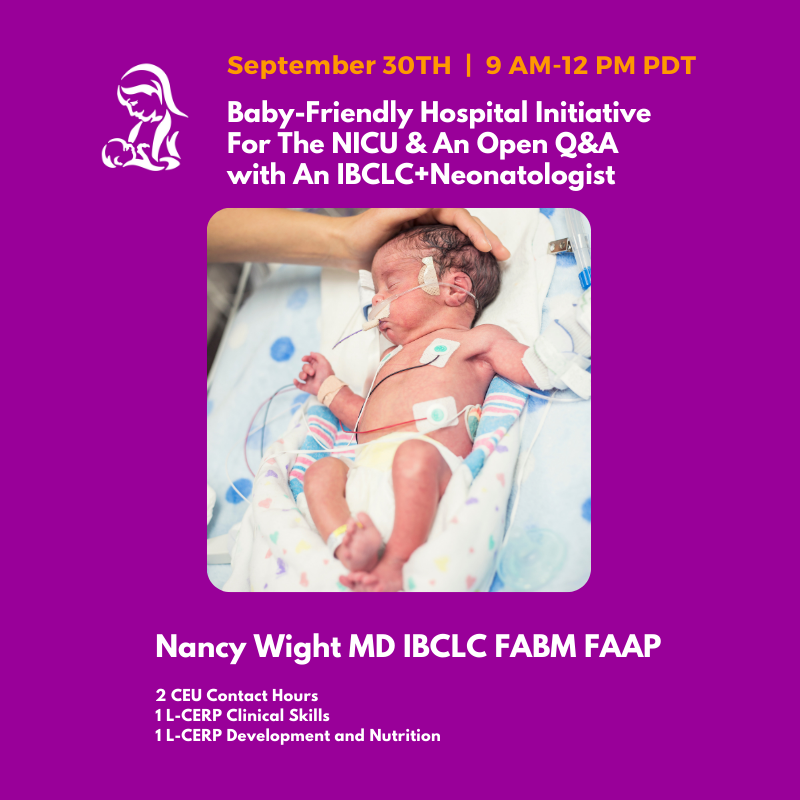 09/30/2022 09:00 AM – 12:00 PM PT
As lactation practitioners, we encounter cases in which we may desire a physician's perspective to gain clarification on a difficult case. Those working in hospitals and clinics may have access to physicians but not always a physician with a background in lactation which we all know makes a significant difference.
The San Diego County Breastfeeding Coalition presents "An Open Q&A with an IBCLC Neonatologist for Lactation Professionals" a round table discussion-style webinar featuring our very own neonatologist, IBCLC, board member, and founder Dr. Nancy White. There are two types of tickets for this event: "Q&A Participant" and regular registration.
Q&A participants will have the option to submit 2-3 questions prior to the event and have them answered live. Q&A participants will also have the option to openly discuss their questions with Dr. White during the event. Dr. Wight will create a presentation based on the question that are submitted. Only 10 "Q&A participant" tickets are available. All other types of registrations (early bird and general registration) will be able to listen to the discussion but won't have the ability to ask questions.
As lactation professionals, we have those questions we want a medical perspective on – don't miss this opportunity and sign up today! Questions that will be answered during the event will be posted on the event page as they are submitted. Questions will be answered as time permits.
Can't attend the live event?
Register today & receive a link to the recording within 1 week from the live event