Misinformation Can Harm Your Clients & Not Practicing Self Care Can Harm You
May 26, 2023 9:00AM—11:30AM
Location
Zoom
Cost Member Early Bird: $30, General Early Bird $43
Event Contact Jose Gonzalez | Email
Categories events
Topics breastfeeding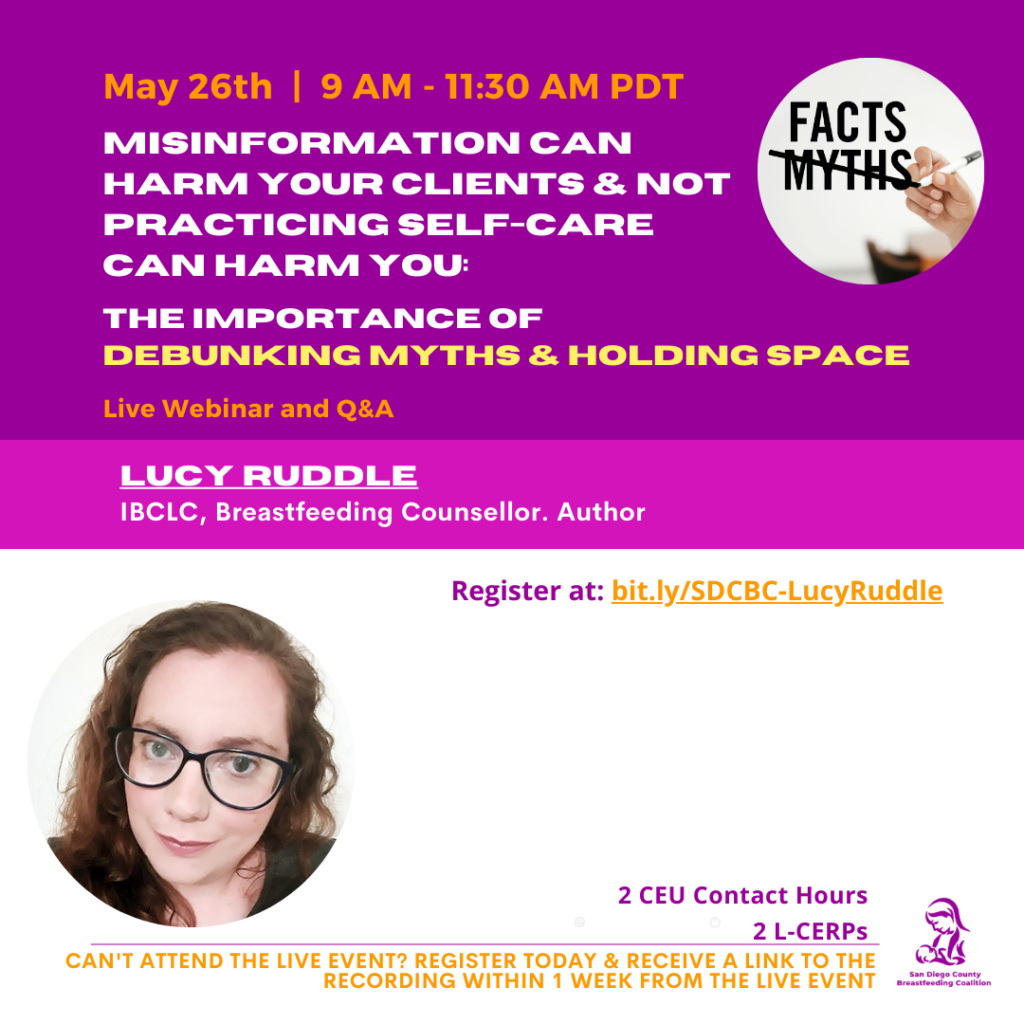 May 26th | 9 AM – 11:30 AM PDT
Featuring 2 Presentations:
Presentation 1: Breastfeeding Myths: Busting the Misinformation Harming Parents, Infants,
and Society
Misinformation around the topic of breastfeeding and lactation is running rampant despite huge strides in knowledge around this topic.
Parents and professionals regularly find themselves being presented with myths as facts, and even when they feel sure they've been given the wrong information, it can be hard to pinpoint where the truth ends, and the misinformation begins.
In this presentation we will look at some of the most harmful myths that exist, explore where they came from, and think about how we can make a positive change for the parents we support.
Objectives:
1. Understand the harm caused by inaccurate breastfeeding information
2. Understand how common misinformation is today
3. Have an understanding of where misinformation comes from
4. Feel confident in supporting parents when they are faced with poor information
Presentation 2: Space Holding for Breastfeeding Supporters
While many lactation supporters are not therapists or trained in psychoanalysis, there is much we can learn from this field.
This talk will dip into some of the principles which counsellors are bound to uphold, including exploring the value of deep trust towards clients, and how self-reflection through supervision can improve our skills, resilience, protect our boundaries, and ultimately help us to support more families.
We will explore how and why active listening and unlimited positive regard for the families we support is so important, and how protecting ourselves from burnout also protects our clients.
Objectives:
1. Understand that "Space Holding" is deeply impactful as part of lactation support
2. Feel confident that often we don't need to "fix" a problem, but simply allow the parent to feel heard and validated.
3. Recognize the importance of supervision and reflection for your own development as a skilled listener.
4. Understand why and how holding clear boundaries with clients is important for protecting yourself against burnout AND important for the self-efficacy of the families you support.
Can't attend the live event?
Register today & receive a link to the recording within 1 week from the live event