Body Work, Tongue & Lip Tie: Oral Assessment, Care, & Functional Activities (In Person Seminar)
Jun 10, 2023 2:00PM—6:00PM
Location
Lemon Grove Community Center - 3146 School Ln, Lemon Grove, CA 91945
Cost $75.00  -  In Person SDCBC Member-Early Bird Registration $100.00  -  In Person SDCBC Member-General Registration $90.00  -  In Person Early Bird Registration For Non-Members $115.00  -  In Person General Registration For Non-Members
Event Contact Jose Gonzalez | Email
Categories events
Topics breastfeeding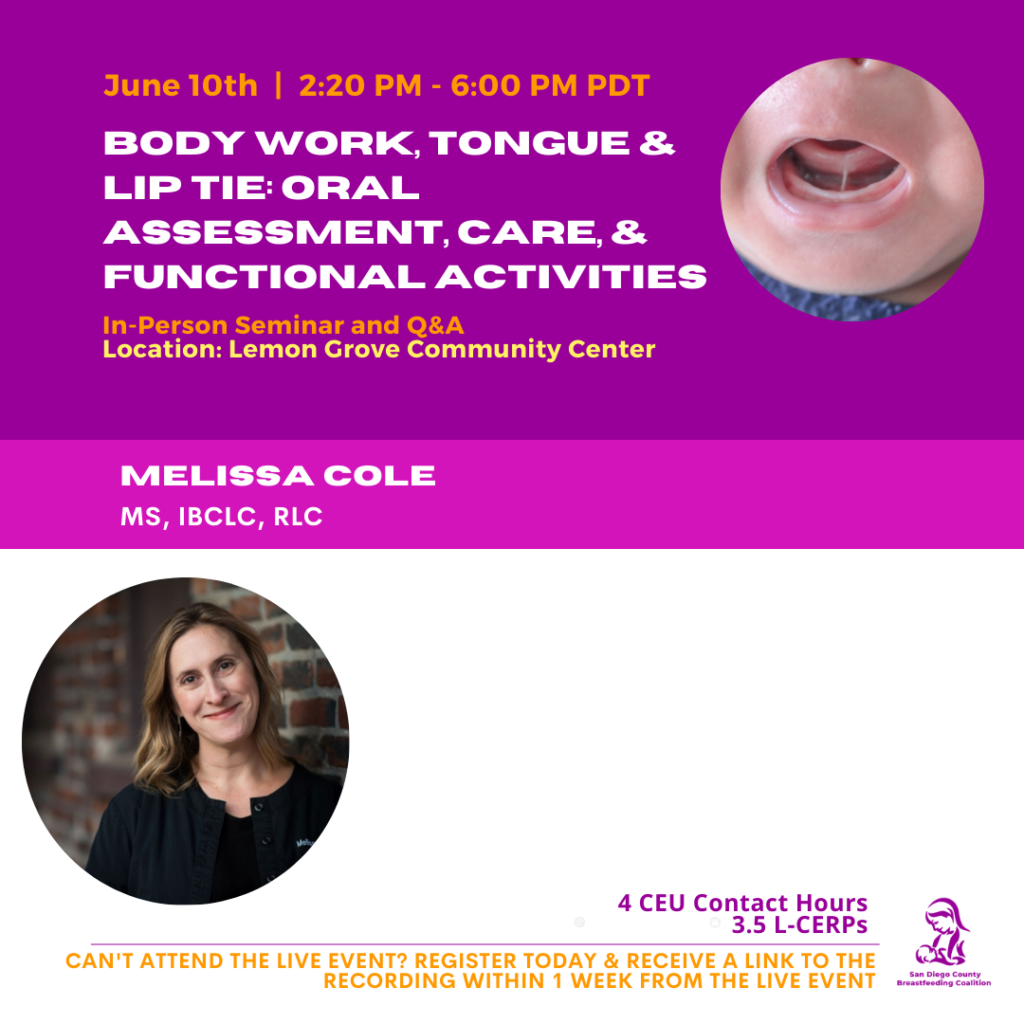 Agenda For Afternoon Seminar
12:40 PM-2:15 PM: Networking (Optional)
1:50 PM-2:20 PM: Registration
2:20 PM-3:50 PM: Tongue and Lip Tie: A Comprehensive Approach to Assessment and Care (1.5 Hours)
3:50 PM-4:50 PM: Activities for Supporting Optimal Infant Oral Function (1 Hour)
4:50 PM-5:00 PM: Break (10 MInutes)
5:00 PM-6:00 PM: Bodywork: Another Resource for Feeding Support (1 Hour)
Pricing
$75.00 – In Person SDCBC Member-Early Bird Registration
$100.00 – In Person SDCBC Member-General Registration
$90.00 – In Person Early Bird Registration For Non-Members
$115.00 – In Person General Registration For Non-Members
Tongue and Lip Tie: A Comprehensive Approach to Assessment and Care (1.5 Hours)
Description: "Tongue tie" (clinically known as ankyloglossia) is of great interest in some settings and is still quite unknown in others. Tongue tie can restrict proper lingual functionality and mobility. These restrictions can cause significant feeding difficulties for infants. Feeding challenges can be complex and multi-factorial, therefore a comprehensive understanding of infant oral anatomy can help clinicians better assess and care for the patients they serve. The speaker will present on signs and symptoms of tongue tie, related health concerns, assessment and treatment strategies, and the status of the evidence base. This presentation is designed to meet the needs of anyone who clinically assesses infants, works with feeding issues, and/or provides lactation care.

Note: Melissa is a long-time member of several tongue tie professional groups and organizations. She has been working for years to increase awareness and professional standards around the topic of oral restrictions such as ankyloglossia. While tongue and lip tie issues have been somewhat of a hot topic in recent years, there is much more to the subject that needs to be discussed. Proper evaluation techniques, understanding oral anatomy and pre- and post-frenotomy support is vital in order for healthcare professionals to take their knowledge about tongue and lip tie to the next level.

Activities for Supporting Optimal Infant Oral Function (1 Hour)
Description: This presentation will give learners an excellent foundational knowledge of activities that can help support optimal newborn oral function based on assessment findings. Lactation professionals have a duty to provide personalized care plan strategies as they relate to infant feeding and lactation. This lesson will cover exercises to support the jaw, cheeks, tongue, palate, lips, tongue. We will cover activities to support optimal oral function and sucking skills. Learners will also recognize oral function concerns that require referral and connection to other allied health professionals.
Bodywork: Another Resource for Feeding Support (1 Hour)
Description: The purpose of this talk is to identify various types of manual therapy techniques that can support optimal feeding for the dyad. Bodywork is not a fad, cultures around the world have used manual therapy techniques to support well-being for more than 5000 years. Bodywork is a general term that describes a variety of therapeutic, hands-on modalities. Bodywork can be a resource for feeding support because it aims to address or physiological issues that may be impacting optimal feeding. Depending on the issue at hand, certain bodywork modalities may be more suited towards the problems than others. An overview of therapeutic techniques will be followed by actual case studies involving manual therapy as part of a care plan strategy to improve infant feeding issues. Presentation objectives include:
Objectives:
Identify various types of bodywork that can be used to support feeding issues
Assess basic aspects of anatomical structure and function that may impact feeding
Comprehensively view structure as it impacts feeding ability and provide targeted care plan strategies
Identify resources for pediatric bodywork, including literature and qualified practitioners.
Note: Infants can present with anatomical issues such as plagiocephaly and torticollis that can greatly impact their ability to feed successfully. Various types of manual therapies can assist in optimizing structure which in turn can optimize function in feeding for the newborn. Several parental breast issues may also be supported by manual therapy strategies. Practitioners will enjoy learning about the evidence around therapeutic intervention for feeding issues, learn ways to assess whether or not a feeding issue is stemming from structural causes, and discover how to create adequate care plan strategies and community resources that include bodywork.3